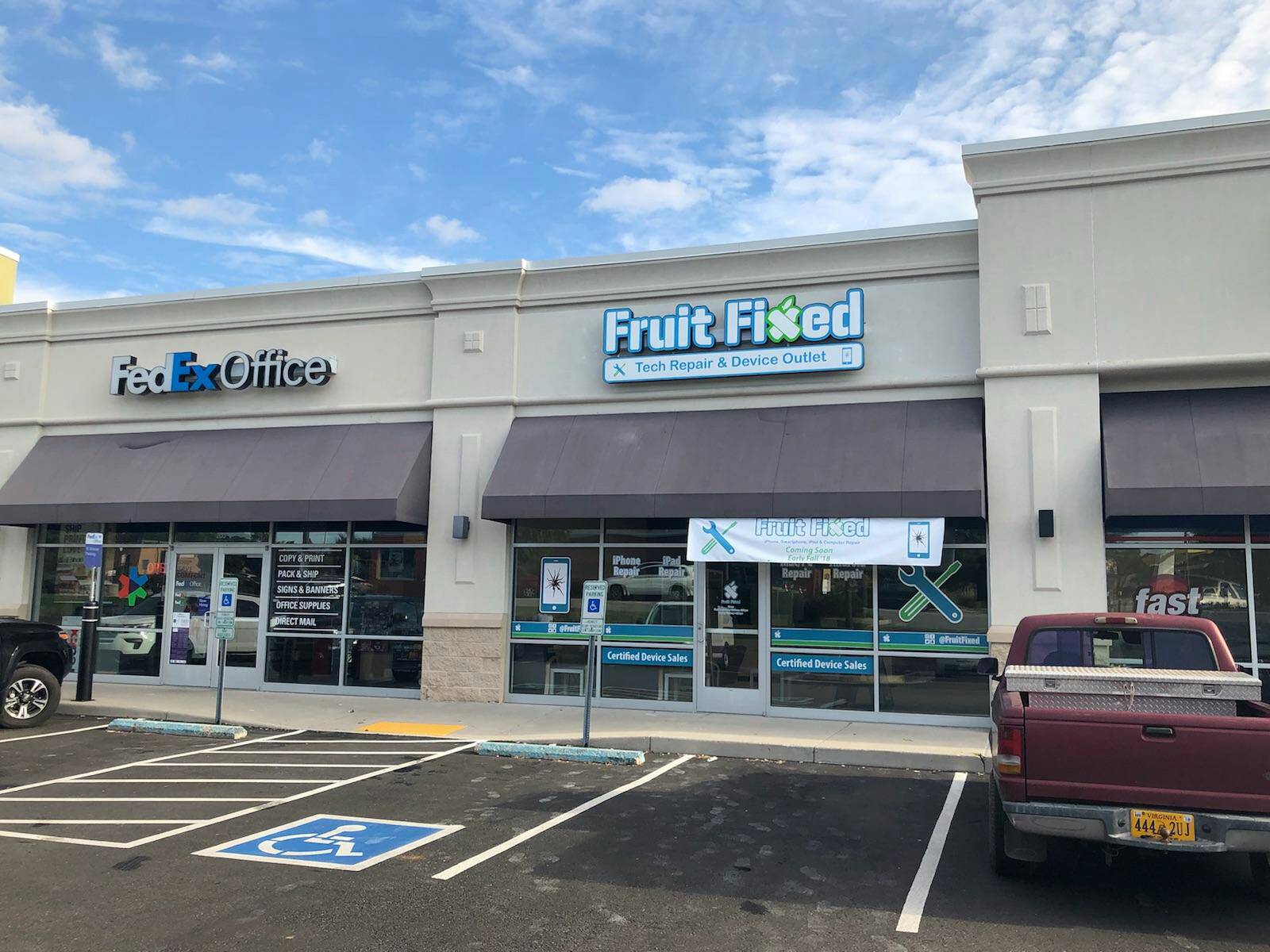 Chester
Located in Chester next to Panera and Fedex in the Shops at Breckenridge with Kroger.
---
12540 Jefferson Davis Hw Suite 300
Chester, VA 23831
Mon-Sat: 10AM – 8PM
Sun: 11AM – 6PM
(804) 712-0050
Professional Gadget Repair Services in Chester, VA
Keep your devices working efficiently at our gadget repair store in Chester, VA. We offer laptop, Mac, smartphone, and iPhone repair.
Reliable and Affordable Gadget Repair in Chester, VA
Having a damaged electronic device can be stressful. But finding the right technician for the job can be even more nerve-wracking. Your electronic device has delicate flex cables, tiny screws, and expensive components that need quality and detail-oriented repairs.
This is where Fruit Fixed comes in. Our highly trained techs in Chester will diagnose and repair your electronic device and ensure it's up and running in no time. Whether you dropped your phone or crashed your laptop, you can count on us to fix the mess.
[Get Started:  (804) 712-0050 ]
Full-Service Gadget Repair in Chester, VA
iPhone Repair
Looking for iPhone repair in Chester, VA Whether your iPhone has charging issues or a cracked screen, our technicians will conduct eTcient repairs.
Smartphone Repair
Smartphones have become an essential part of day-to-day life. If your smartphone breaks, it may hinder your functionality. Luckily, we can save your day with our reliable smartphone repairs in Chester, VA.
iPad Repair
We understand that a damaged iPad can get in the way of you and your productivity. This is why we offer dependable iPad repair in Chester that ensures you can iPad is working without any hassles.
Tablet Repair
Need tablet repairs in Chester, VA? From Android to Google tablets, our expert technicians will take care of any tablet repairs you may need.
Mac Repair
While your MacBook may have a robust OS and a eawless design, it can become faulty over time. Our Mac repairs in Chester will ensure your device is working well in no time.
Laptop Repair
Got a damaged laptop? Get in touch with Fruit Fixed. We offer high-quality laptop repairs in Chester for all brands and models.
Game Console Repair
A damaged game console can ruin your fun, but not on our watch. We provide fast gaming console repairs in Chester so that you can get back to playing your favorite games as soon as possible.
iPod Repair
Don't stop jamming to your favorite songs because of a broken iPod. We offer premium iPod repairs in Chester so you can keep jamming.
How Our Repair Service Works
Step 1: Contact Us
Get in touch with us and tell us about the issue with your electronic device.
Step 2: Get a Quote
We will diagnose the issue and offer you a quote.
Step 3: Fix it
Whether it's your phone, iPod, or laptop, our technicians will conduct efficient repairs
Your Trusted Chester, VA Gadgets Repair Store
At Fruit Fixed, we offer expert repairs to solve any electronic issues. You can count on our qualified technicians to handle your electronic device with the utmost care and consideration. What's more, you don't have to break the bank when you get your device repaired with us. Our low price guarantee ensures you get upfront and affordable pricing without compromising the quality of service.
Gadgets Repair Near Me: Consult with Our Gadgets Repair Experts in Chester, VA
Need to fix your damaged gadgets in Short Pump? Look no further than Fruit Fixed. We offer high-quality electronic repairs with fast turnarounds. Contact us today to learn more about our services Chester, VA.
[Contact Us: (804) 712-0050 ]
---